It's that time of year when the grey, overcast skies, frigid temperatures, and mounds of snow make one long for some sunshine and warmer weather.
Which is why Las Vegas lit up brightly on our travel destination radar screen.
With daytime temps forecasted in the lower to mid-70s and full, blazing suns adorning the long-term outlook, how could Vegas not be a consideration?
The next step, evaluate our airline, hotel and transferable points balances to see if we could make our somewhat last minute travel plans a reality at a very low cost.
Sure enough, with a little back and forth on exactly how we wanted to play it, we decided we could get the flights we wanted and the hotel we preferred for next to nothing thanks to Miles and Points.
There was one last consideration before finalizing the plans, though…did we really want to travel during one of the nastiest flu seasons in years?
The lure of bright sunshine and temperate conditions won out – the flu be damned, Vegas here we come!
Las Vegas
One thing to know, Vegas is not an inexpensive destination by any means. In the olden days, you used to be able to find deals fairly easily. Not so much anymore.
Which is why using Miles and Points to offset costs is imperative if money is an object.
Below I'll give a quick rundown of the points we used, the money we saved and a few tidbits we gleaned from our Las Vegas trip.
Airfare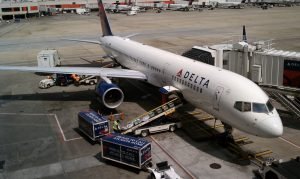 We flew Delta Airlines and "paid" 24,000 SkyMiles and $11.20 in taxes/fees per person for our roundtrip flights.
That's actually not a bad price for a domestic, economy-class roundtrip ticket on Delta, considering they no longer have a publicized award chart for their SkyMiles redemptions, rather using a variable redemption system based on ticket price, flight capacity, and who knows what else.
Since I'm old-school and still like to think of a domestic U.S. award redemption in terms of the used-to-be-standard 25,000 miles roundtrip price, I felt this award was fairly priced.
If we had actually paid money for the tickets, they would have priced at $314 per person.
Airline miles saved us over $600.
Hotel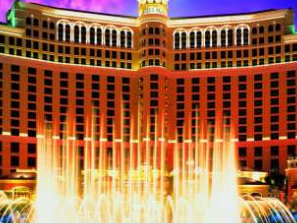 We decided to stay at the Bellagio, using a combination of Hyatt points and Chase Ultimate Rewards points via the Chase Ultimate Rewards Travel Portal.
This was somewhat of an experiment, actually booking two different reservations – one via Hyatt's website and the other via the UR Travel Portal – to see how it would be handled.
MGM and Hyatt partnered a few years ago, which has allowed all MGM properties to be booked using Hyatt's World of Hyatt points for award stays.  And, any hotel charges made to your room during your award stay will earn Hyatt points.  Which is nice.
What I wanted to see, though, was if our Chase Ultimate Rewards Travel Portal booking would be "connected" with our Hyatt award reservation, thus also earning Hyatt points.
It was not and did not.  Oh well, it was worth a try.
Something to keep in mind if you book hotels via the UR Travel Portal, those stays will not earn hotel loyalty points and more times than not, any status you have with a hotel program will not be recognized.  Those perks are reserved for reservations made directly with the hotel, and not through third party booking sites, which is what the UR Travel Portal is considered.  In fact, at Bellagio check-in, the front desk agent specifically said that reservation was made via Expedia.
Ok, enough of the in-the-weeds Miles and Points talk.  What did we "spend" and save on our Bellagio stay.
We "paid" 50,000 Hyatt points (2 nights) and 28,000 Ultimate Rewards points (2 nights) for the hotel stay.
If we had actually paid for the stay, the total price would have been $1,398.66 for the four nights.
Not a bad savings thanks to Hyatt and Ultimate Rewards points.
Those Damn Resort Fees
I mentioned how expensive Las Vegas can be.  One of the reasons is pretty much every Vegas hotel now adds a per day resort fee to your reservation.  And depending on the hotel, it can be pretty pricey.
At the Bellagio, the per day resort fee was $39.  And to add insult to injury, they tax that fee, too!  So the real resort fee total is about $44 per day!!
At Hyatt properties, when there's a resort fee at the hotel you've booked an award stay, the resort fee is waived.  That's a really nice policy Hyatt has decided to implement.
Unfortunately, it doesn't apply to award nights at MGM properties in Vegas.  All resort fees must be paid whether you're using points to stay for free or paying for your stay.
I won't even get into whether the fee is worth what you get…it's not…just know that Vegas hotels are going to charge an exorbitant per day fee and move on.
Some Other Things
Here are a few other tidbits I found of interest during our Vegas trip.
When paying taxis with a credit card, a $3 fee is automatically added.
Uber and Lyft have designated pick-up locations at many hotels. Surprisingly, and unfortunately, not all drivers are aware of this. I was charged a no-show fee on Uber when the driver couldn't find the designated pick up location. After a few emails to Uber corporate, the fee was reversed.
Probably can go without saying, but still it's a shock…food and drink in Vegas is expensive! An all-you-can-eat buffet at a low price…fuggedaboutit.
And, along those same lines, watch out for the mini-bars!!  I couldn't resist taking the pic below.  And these prices were $2 lower than the weekend prices…did you know they change the mini-bar prices based on the day?  $18-$20 for a bottle of water!!!
Luckily, there are CVS and Walgreens stores along the strip where you can stock up on reasonably priced goods.
How You Can Do It
As a result of a credit card sign-up bonus and some ongoing, strategic credit card spend, we were able to cut significantly the cost of our Vegas getaway.
And you can do it, too.  Here's how.
The Delta award flights were a result of a 60,000-mile sign-up bonus on the American Express Gold Delta SkyMiles credit card. Currently, that card is offering a 30,000-mile sign-up bonus after spending $1,000 in the first 3 months. That's a standard, but low, sign-up bonus for the Gold Delta card – personally I'd wait for 60,000-miles or more before applying. Especially considering American Express' one-sign-up-bonus-per-lifetime rule.
And the points for the free hotel nights were a result of spending on our currently held Chase Sapphire Preferred, Chase Freedom and Chase Ink Cash credit cards.
You can apply for two of those cards at the links below. The sign-up bonuses would go a long way toward getting those free nights at Bellagio.
Note: we receive Ultimate Rewards bonus points for each approved credit card application using the links below. Thanks in advance if you use our links.
50,000 Ultimate Rewards points after spending $4,000 in the first 3 months. An extra 5,000 when an authorized user is added and a purchase is made.
$95 annual fee is waived the first year of card membership.
15,000 Ultimate Rewards points after spending $500 in the first 3 months. An extra 2.500 points when an authorized user is added and a purchase is made.
*Points from the Freedom card need to be transferred to a Premium Ultimate Rewards earning card (Sapphire Preferred, Reserve, Ink business card) to be transferred to travel partners.*
No annual fee.
Once your Ultimate Rewards points are accrued from sign-up bonuses and your every day spending on the cards, you can transfer the points to a variety of travel partners at a 1:1 rate.  Hyatt, Marriott, IHG, United, and Southwest are just a few of your travel partner options.
Or, you can use your points to book via the Ultimate Rewards Travel Portal if the points price is better than transferring.
Wrap Up
Miles and Points have given my wife and me a variety of travel experiences for little out-of-pocket cost.  We would never have visited many of the destinations we have had it not been for this hobby.
And, that is what Miles and Points are really all about.  Providing the opportunity to have experiences you likely otherwise could not have afforded.
So whether it's Las Vegas, the beaches in Florida, Paris, or where ever else you may dream of spending time, hopefully, this post has shown, with a little effort, your desired destination, no matter the cost, is within reach.
Oh, and by the way, Miles and Points – at least for this trip – also provided the opportunity for me to experience the flu.  Now I can't say for sure it was the trip where I contracted the virus, but the timing was sure suspicious. And made for a somewhat unenjoyable trip home.
Maybe next year we'll suppress the urge to find brighter skies and warmer weather until the flu season has ended.