United Airlines recently began a partnership with BP gasoline stations that allows United MileagePlus members to earn miles every time you fuel up at BP.
As the promo language states, "This new program allows you to earn and use MileagePlus miles with BP Diver Rewards. So the more you pump, the more miles you can earn toward your next trip."
You can also use your MileagePlus miles to "pay" for your fuel purchases, but I wouldn't recommend going that route if maximizing your miles is of any interest.
BP DRIVER REWARDS
First and foremost, you have to sign up for BP Driver Rewards. Signing up is free and relatively easy. You can do so at the link below.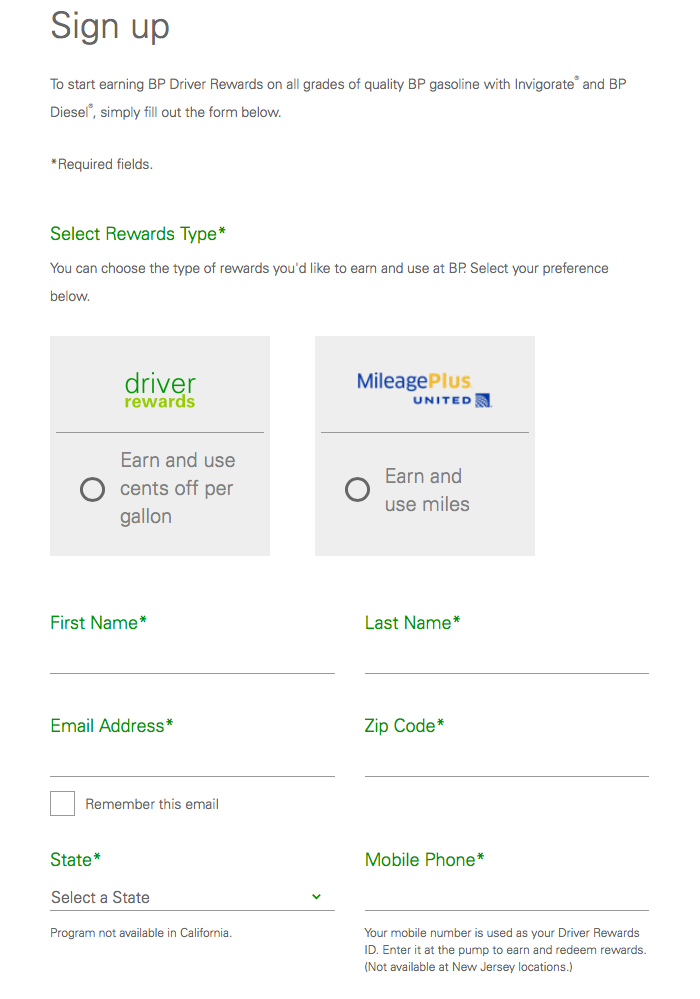 BP Driver Rewards Sign Up Link.
There's currently a 200 mile signup bonus with your first gas purchase using a linked credit or debit card.  All BP Driver Rewards members – existing and new – are eligible for this bonus.
Ongoing MileagePlus earning at a BP pump is as follow:
1 mile per gallon of BP fuel purchased
2 miles per gallon of regular or mid-grade fuel purchased with a linked form of payment to your Driver Rewards account
3 miles per gallon of premium grade fuel purchased
There is a maximum of 20 gallons per fuel purchase, so at the max, you'll earn 60 United MileagePlus miles for every fuel purchase.
Still, additional miles are additional miles.  And each time a mile is added to your United MileagePlus account, your 18-month expiration clock resets. So this is a really easy way to keep your United miles alive.
The downside to gasoline rewards programs is you need to remember to enter your number before filling up.
Although, with the option to link a credit card to your BP Driver Rewards account, simply using that card to pay should automatically earn the MileagePlus miles.
LINKING A CREDIT CARD
If you decide to link a credit card to earn the extra mile per gallon – and why wouldn't you – be sure to link a card that, itself, earns multiple points/miles per dollar spent on gasoline purchases.
A few examples are:
Chase Freedom (5x when gas stations are part of the quarterly bonus category)
Chase Ink Cash business card (2x)
Amex EveryDay Preferred (2x-3x)
Citi ThankYou Premier (3x)
Premier Rewards Gold Card from American Express (2x)
CitiBusiness / AAdvantage Platinum Select World Mastercard (2x)
As with any program, there's always fine print to wade through.  If you're interested, here's the United/BP Driver Rewards language (click to enlarge).
WRAP UP
This promotion isn't going to earn you enough miles for a first class ticket across the pond, but it is a fairly simple way to add a few United miles to your account on a regular basis.
And, when you add a few miles here, and a few miles there, before you know it you'll have enough United miles to take that special trip you've been dreaming of.