After reading a number of accounts about how AutoSlash can save money on car rentals, I felt I needed to give this service a try. How was my experience? Let's just say I had a lot more cash to spend on my trip than I originally expected thanks to AutoSlash.
What is AutoSlash?
AutoSlash, per its "About Us" page, is a website dedicated to saving people money on car rentals. They go on to say, "We're the only site on the Internet that applies the best coupons and discounts, tracks rental price changes right up until the pickup date, and re-books users into these savings automatically – ALL FOR FREE!"
My Experience
 I decided to give AutoSlash a try on a trip to the Los Angeles area last summer.
I made my initial car rental reservation with Alamo, through Alamo's website, at the rate of $127.72.
I submitted my rental information (my name, rental company's name, rental confirmation number) to AutoSlash, and within a few hours, received notice that two lower rates for my trip were found.
I chose the Avis $71.65 option by clicking the link and AutoSlash took care of the rest, changing my reservation to the lower rate automatically.
Being my first time using AutoSlash, I was a bit leery, so I went to Avis's web page, logged in using my confirmation number, and sure enough, the new, lower, rental rate was showing in Avis's system.
When I showed up at the rental counter for my pickup, the $71.65 rate was still showing, and, ultimately, was what I was charged at the end of the rental.
So AutoSlash worked as advertised. All I had to do was submit my rental information to the site and it does all the work finding lower rates.
In fact, a week before my LA trip, AutoSlash emailed with an even lower rate (by a few dollars) with another rental company, but I decided to stick with Avis due to my membership in their loyalty program.
Unfortunately, at the time I didn't think I'd be writing about AutoSlash, so I didn't bother with screen shots to illustrate the process. Below is a mock rental I recently submitted to better show the process and results.
AutoSlash at Work
I booked a three-day rental with Alamo via Alamo.com for a standard car at the Orlando International Airport. The total price came in at $216.07.
I then went to AutoSlash.com to submit my car rental information.
Select the "Track a rental you've booked elsewhere" tab and input the information you received on your rental confirmation page/email.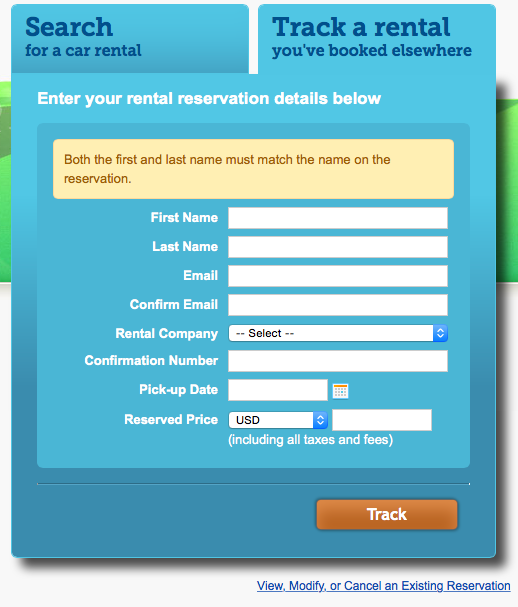 Once submitted, the screen will confirm receipt and let you know AutoSlash is now tracking your reservation, searching for lower rates.
Note: you can book car rentals through AutoSlash's website, but their rental partners are limited, so it's best to find a low rate using Expedia.com, Hotwire.com, etc., or using your preferred car rental company, and then submit that rental/rate to AutoSlash.
For this mock booking, it was less than 15 minutes before I received an email from AutoSlash with a number of lower priced options for my desired rental.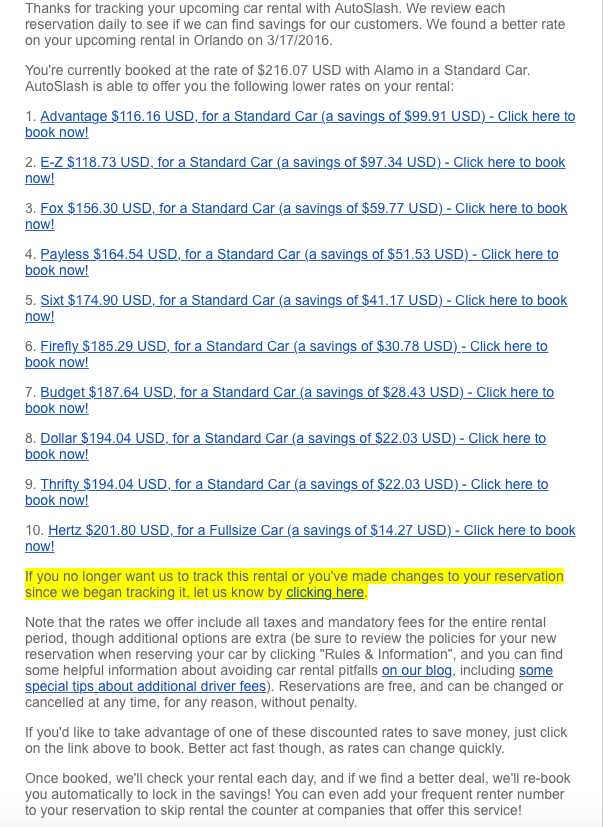 And, after selecting one of those lower rates, AutoSlash would continue looking for even lower rates up until the day of the scheduled rental.
In my experience, AutoSlash works.  For every rental, real and mock, that I've submitted to AutoSlash, it has saved money.  Sometimes it's significant savings, and sometimes just okay savings, but it's always provided a lower priced option than what I initially booked.
AutoSlash costs nothing to use, so there's no reason to not give it a try the next time you need to rent a car.
If you've used AutoSlash, let us know your experiences. And if you give AutoSlash a try as a result of this post, come back and let us know how it worked for you.