Since the original publication of this post, United Airlines has changed the look of their Award Availability Calendar. Instead of colors representing the different levels of availability, United has switched to a solid line, dotted line and no graphical image to represent availability. All other aspects of this post remain current and applicable.
Recently I wrote a piece detailing How to Book a United Airlines Domestic Economy Class Award Ticket.
Now I'd like to continue the entry-level instruction, providing details on how to book an international award ticket on United Airlines.
As I said in my first how-to-book post, if you have a good understanding of Miles and Points, and have booked award tickets before, the rest of this post likely isn't for you.
But, if you're like most of our readers, this is the exact information you're looking for.
Now, this one's a little lengthy, so grab a cup of coffee, find a comfortable chair and let's get booking our international award ticket on United!
The initial steps to booking an international award ticket on United are exactly the same as booking a domestic award ticket.
I'll run through those steps quickly.
Head to United.com.
Sign in to your MileagePlus account (gold box on the left) if you have miles in your account and actually want to book an award flight. Or, you can search award availability without signing in.
Fill in the Book travel section with your trip information, making sure to select the Search For Award Travel box located beneath the number of passengers box.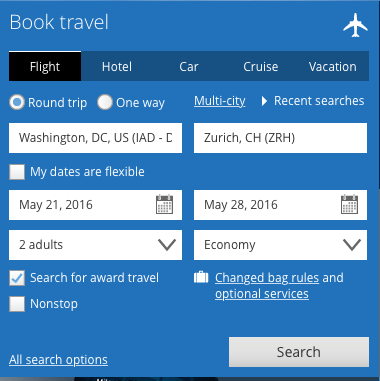 In this example, I've searched for two, roundtrip, economy class award tickets from Washington (D.C.) Dulles to Zurich, Switzerland, May 21, 2016 to May 28, 2016.
The results page shows a two-month color-coded calendar of availability. The colors are a quick way to gauge what availability there is for a specific date.
Yellow – Saver Award Economy
Blue – Saver Award Premium Cabin (business and/or first class)
Green – Saver Award Economy & Premium Cabin
White – Standard Award May Be Available
As with any award ticket, on any airline, unless absolutely necessary (death in the family, an emergency, etc.) you never want to book a Standard Award. Finding Saver Award availability that fits within your travel schedule is always the goal.
In this example, I was able to find Saver Award Economy availability for the departure date I wanted. Now to pick the flight.
Below the Calendar is the listing of available flights. Remember, you're looking for Saver Award availability, which in this example equates to 30,000 miles one-way. If you see higher points levels that means for that specific flight there is no Saver availability.
I decided on a flight further down the list, outside of this image's view. With a 5:55 p.m. departure, I'll get dinner early in the flight, and then have time to catch a few hours of sleep before the morning arrival in Zurich – if I can sleep in an economy seat, that is.
By clicking the Details tab, more specific flight information is shown.
As you can see, this leg of the trip will cost 30,000 miles and $5.60 per person. To select this flight, I click "Saver Award 30K miles + $5.60," and I've selected that option.
The next screen shows the flight I've chosen, below which is the Award Availability Calendar (Return) and below that, the available flights for the selected date. It turns out, the 28th is green on the calendar, showing Saver Award Economy availability – which is good since that's my chosen return date. But, green also means there's Saver Business/First class availability. If I was so inclined, I could potentially fly business class back to the U.S.
To finish this example, I will not choose comfort; rather I'll finish booking my all-economy-class European trip.
I've selected the 11:55 a.m. departure (which is further down the list) because it's a nonstop with slightly less expensive taxes/fees at $52.96 per person. The mileage needed is still 30,000 per person for this one-way return flight. Clicking the Details tab, once again, shows the specifics of the flight I've chosen.
You likely noticed that the taxes/fees are higher for flights returning to the U.S., as compared to flights departing the U.S. This is typical for flights departing Europe. This is especially true if you are departing from London's Heathrow airport. Heathrow has some of the highest taxes/fees on air tickets (award flights included) of any European airport. Plan your travel accordingly.
Okay, back to booking our award ticket.
I select the flight by clicking "Saver Award 30k miles + $52.96" and am taken to the itinerary review and checkout page.
This trip, for two adults in economy, will cost 120,000 miles and $117.32 in taxes/fees. Divide the numbers by 2 if you want the per person cost.
As long as you have enough miles in your account to cover the full cost, you can click the Continue button to book the trip (I do not, thus you don't see the "Continue" button in this screenshot).
On the following screens you'll input the passengers' information, followed by a payment screen for the taxes and fees.
Once those tasks are completed, your two, economy class, roundtrip award tickets to Switzerland are booked!
While economy award tickets are less expensive (miles-wise), the best value comes from using airline miles for long haul, international, business and first class awards.
The main reason I got involved in the Miles and Points game was to have the option of booking international award tickets in business or first class. The ability to stretch out – or even sleep somewhat comfortably – on a larger, potentially lie-flat, business/first class seat makes long haul flights tolerable.
Economy class seats on 6+ hour flights, especially if you're above average height or size, can be a challenge.
Since I could never pay for a business/first class seat, Miles and Points have become my ticket to exploring worldwide destinations I likely otherwise would not.
In the final installment of booking-a-United-award-ticket, I'll cover how to book a business/first class international award ticket, and discuss the intricacies that make it somewhat different than booking economy award tickets.
If you have any interest in flying internationally – in comfort – for less than a few hundred dollars roundtrip, be sure to catch – How to Book a United Airlines International Award Ticket – Part 2 – later this week.