Since the original publication of this post, United Airlines has changed the look of their Award Availability Calendar. Instead of colors representing the different levels of availability, United has switched to a solid line, dotted line and no graphical image to represent availability. All other aspects of this post remain current and applicable.
In my last post, How to Book a United Airlines International Award Ticket, I covered the process for finding and booking international economy award tickets.  I finished the piece with a tease about learning how to find and book international business/first class awards to fly those long distances in comfort.
Which for many – including me – is a dream come true.
So as not to prolong this much anticipated piece anymore, let's explore using miles for business/first class award seats on international travel.
The process for booking an international business/first class award ticket is the same as booking an economy award ticket; the only difference is you're looking for the color blue or green on the Award Availability Calendar.
We're going to use our previous economy award ticket search for this example, too.
The economy award departure date was May 21, but looking at the May Award Availability Calendar, I see that May 23rd is green – meaning there is availability in both Saver Economy and Business/First.
If my schedule allows, I can move my departure date by two days and fly in comfort, rather than being scrunched in economy.
By selecting May 23rd, I see there are four flights with Business Saver Awards available (and as you can see on the screen shot, no First Class awards, either Saver or Standard on those first four flights).
Now comes the difference when flying internationally – you don't necessarily have to fly on United airplanes.
The United search engine shows availability for many of its Star Alliance/partner airlines.
Which means, you can book, via United's website, award tickets – economy, business and usually first class seats – on other air carriers.
Looking at the first four listings from the above screenshot, you see that the operators of those flights are a mix between Lufthansa and SWISS airlines. There is no United operated flight shown, but that's okay, because you can book travel on any of those listed flights/airlines using the United booking engine/website and United miles.
The other thing to notice is that business/first alliance/partner airline award prices are higher than what they would be if flown on United at 70,000 miles per person, one-way business class and 110,000 miles per person, one-way first class.
If those same flights were operated by United, on United aircraft, the price would be 57,500 miles, one-way, for a business class award ticket and 80,000 miles per person, one-way for a first class award.
It's nice to have a wider array of flight options, but you'll pay a higher miles-price if booking a business/first award on a partner airline.
I decide to pick the first flight, departing at 3:25 and operated by both Lufthansa and SWISS airlines for 70,000 miles and $38.60 per person, one-way.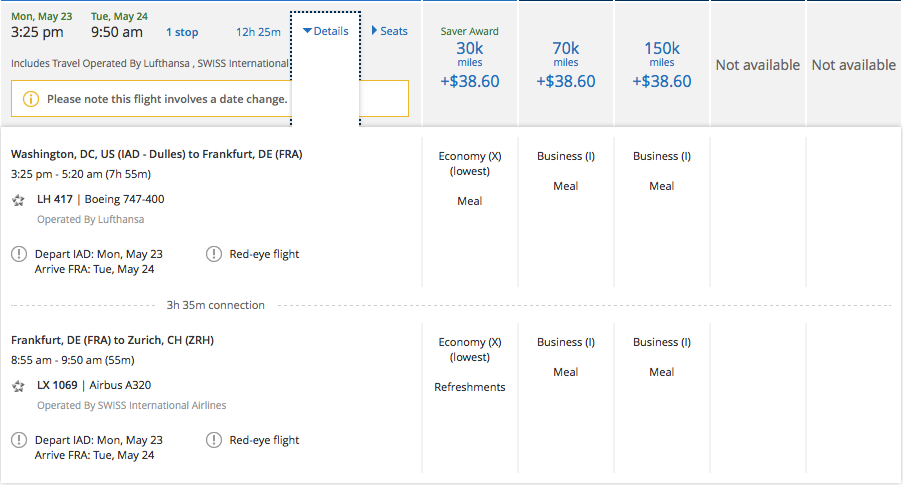 I tweak my travel schedule a little more, and decide to return to the U.S. on May 31st to take advantage of Business Saver availability on United at the lower price level of 57,500 miles and $58.66 per person, one-way.
The Details tab shows specific flight information for my return flights.
There's also First Saver Award availability on that flight for 80,000 miles one-way, but I'd rather save the 22,500 miles for future use – the business class seat is good enough for me.
After selecting those flight options, I'm taken to the Trip Summary screen where I see my totals. This business class trip will cost 255,000 miles and $194.72 total for two people. Divide by 2 for the per person costs.
As with the previous award ticket examples, clicking the Continue button will take you to the passenger information screen, followed by the payment screen for the taxes/fees and then, Bam!, you've booked your business class award tickets!
Of course, you can fly to many other destinations around the world using these tips – both in economy and business/first. United has an award chart .pdf that provides award pricing for all destinations. I've included the document for your reading pleasure.
Note: the amounts shown in the charts are one-way, per person.
The actual act of booking an award ticket – be it domestic or international – is fairly easy. The hard part is finding the availability for the dates/times you want to travel, especially if your goal is to find business/first class award availability.
But, it's not impossible. Just have patience, and be flexible with your travel dates and destination airports, if possible.
There are more detailed tips/tricks to finding availability when you become more advanced in the Miles and Points hobby.  Tips that can mean the difference between finding award availability and not.
And if you really don't want to bother with all the searching, you can use an Award Booking Service who will, for a fee that normally runs around $100 – $200 per ticket, take into consideration the number of miles you have and your preferred travel itinerary, and will find the best award options for your trip.
As I pointed out in the post on booking domestic awards, if you need miles to actually book the trips, there are a few credit cards that will help you toward that goal.
In my recent Review: Chase Sapphire Preferred Credit Card post, I covered how you can transfer Chase Ultimate Rewards points to various airline and hotel programs, one of which being United Airlines.
The Chase Sapphire Preferred card is currently offering 50,000 Ultimate Rewards points after spending $4,000 in the first 3 months.
A more direct route to get United miles would be to sign-up for the Chase United MileagePlus Explorer card. It's currently offering 30,000 miles after spending $1,000 in 3 months. However, that sign-up bonus periodically bumps up to 50,000 miles, so you might want to wait for that increased bonus to apply.
And, if there are two of you flying, the best and quickest way to acquire miles is for you both to apply for credit cards that will help you achieve your travel goals.
I hope this award booking overview has been helpful. If you have additional questions on booking a United economy, business or first class award ticket, comment below, or email us using the Contact button at the bottom of the site.