Both United Airlines and American Airlines have begun Valentine's Day bonus award mile promotions on their respective shopping portals.
And not to be outdone by Southwest Airline's TurboTax promotion, United is offering extra MileagePlus miles when you go through the MileagePlus Shopping Portal to file your taxes with TurboTax.
Here are the details for each promo.
United Airlines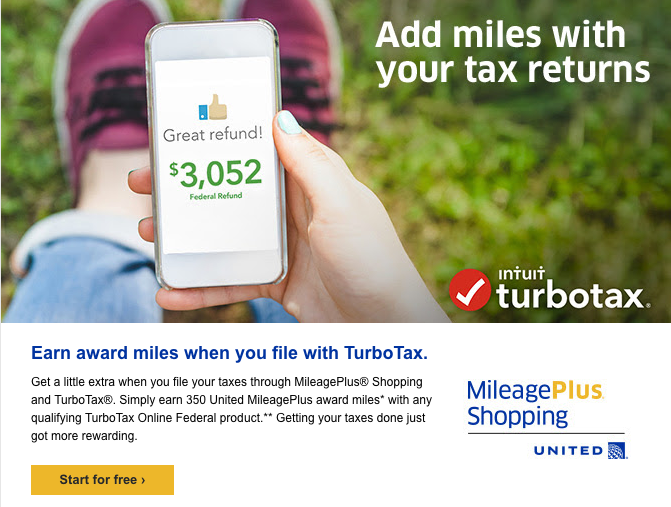 Earn 350 United MileagePlus miles with any qualifying TurboTax Online Federal product
Miles can only be earned by filing an online federal tax return between January 3, 2018, and April 17, 2018. You will earn the bonus miles on the 2017 online version of TurboTax Free Edition, TurboTax Deluxe, TurboTax Premier, and TurboTax Self-Employed. And to repeat, bonus miles will be awarded only after a tax year 2017 completed federal tax return is filed.
Not a fantastic bonus miles offer, but not bad, either. If you're going to use TurboTax to file your taxes online anyway, why not grab some easy United miles in the process.
Earn 500 bonus award miles when you spend $200
The United MileagePlus Shopping portal "Valentine's Day" bonus award miles campaign runs 1/29/18 through 2/11/18. Members will earn a one-time bonus of 500 MileagePlus miles on qualifying purchases, in addition to the standard MileagePlus miles earned from shopping online through the portal.
As is usual with these shopping portal promotions, the bonus award miles are based on cumulative spend, meaning you don't have to spend the $200 all in one day or at one retailer. Just as long as you shop via the MileagePlus shopping portal and spend a total of $200+ over the campaign period, you'll get the bonus miles.
Again, while not a huge amount of miles, getting some is better than none. And, every little bit added to your miles account gets you that much closer to your redemption goal.
American Airlines
Earn 500 American Airlines AAdvantage bonus miles when you spend $200
Shop via the AAdvantage eShopping portal between 1/29/18 and 2/11/18, spend $200 or more, and you'll earn an extra 500 AAdvantage miles. As is usual with these promotions, the bonus miles are in addition to the standard miles earned for shopping via the portal. And, the one-time bonus is based on cumulative qualifying purchases, so the $200 doesn't have to be spent at one retailer or on one day to get the bonus miles.
As with the United shopping promotion, 500 AAdvantage miles aren't a major haul, but adding some to your frequent flyer account is better than adding none. If you have online shopping to do during the promo period, and American is your preferred airline for earning miles, might as well take advantage of the offer.