The 2019 second quarter bonus categories for the Chase Freedom credit card are active today and points/cash back for spend on those categories can now be earned.
Bonus Categories
Freedom's second quarter bonus categories include:
Grocery Stores
Home Improvement Stores
All purchases made in these categories earn 5% cash back – or my favorite, 5 Ultimate Rewards points per dollar spent – on up to $1,500 in combined purchases.
Bonus earnings on the bonus categories begin today, April 1, 2019, and run through June 30, 2019.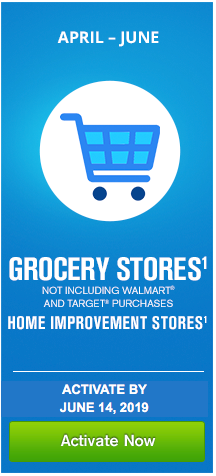 If you haven't received your activation email yet, you can activate the second quarter categories here.
Important: The grocery store category does notinclude Walmart and Target purchases.
You can view all merchants that fall into the grocery and home improvement stores categories at this link.
How to Play This Quarter's Categories
The grocery store category will make maximizing this quarter's $1,500 spend fairly easy. Add in home improvement stores for those who're planning some upcoming home projects and earning the max points/cash back this quarter should be a snap.
Grocery Stores
Grocery stores have always been my favorite Chase Freedom bonus category. It's easy to hit the $1,500 quarterly max through grocery spend alone, earning the full $75 cash back or 7,500 Ultimate Rewards points.
Not everyone, however, spends that much on groceries.
Which is where gift cards come in. Most grocery stores sell a wide variety of gift cards, the purchase of which earns 5x points/5% cash back.
Simply purchase gift cards for restaurants and/or merchants at which you were going to spend anyway and earn the bonus cash back/points in the process.
And if you need a little more help hitting that $1,500 quarterly max, you can buy Visa or Mastercard gift cards that you can use for purchases at any location. Just remember, you'll be paying a fee when you buy Visa/Mastercard gift cards, so factor that into your big picture strategy.
Home Improvement Stores
Anyone who owns a home – and especially those who enjoy tinkering and home projects – knows spending $1,500 over a three month period can be accomplished quite easily.
I won't get into all the products that can be purchased at home improvement stores – that's fairly self-evident.
However, what might not be so obvious is that many home improvement stores sell a variety of third-party gift cards, too.
I know, for many, your gift card purchases can be done at grocery stores this quarter. But, just in case grocery stores aren't an option for purchasing gift cards, be aware that home improvement stores offer the gift card option for maximizing this quarters $1,500 spend.
Get the Freedom Card
The Chase Freedom card is a great – no-annual fee – way to earn cash back or the extremely valuable Ultimate Rewards points.
You can read our review of the Chase Freedom card here.
And use the link below to apply for the Chase Freedom card if you don't already have it in your credit card arsenal. Applications approved via the link below will provide us with a referral bonus of Ultimate Rewards points. You don't have to use our link to apply, but we appreciate when you do.
Chase Freedom credit card application link
Wrap Up
Chase has followed up a really strong 2019 first quarter of bonus categories with an equally lucrative second quarter.
For me, grocery stores will easily allow me to earn the full 7,500 Ultimate Rewards points this quarter.
But, just in case something strange happens, I can use the home improvement stores category as a backup either by using my Freedom card to buy needed home products or a third-party gift card or two to hit the $1,500 max.
No matter the bonus category used, I'll be enjoying another chunk of Ultimate Rewards points being added to my stash come the end of June.