Chase has released the Freedom credit card's bonus categories for the third quarter of 2018.
July 1, 2018, begins the new Freedom 5x earning categories which include:
Lyft
Walgreens
Gas Stations
You don't have to wait until July 1 to activate the bonus categories, though, that can be done beginning today.
Click here to activate the bonus categories now.
Chase Freedom and Ultimate Rewards Points
Followers of FST know I'm a big fan of the Chase Ultimate Rewards points program.  And one of the best ways to accrue Ultimate Rewards at a fast clip is to hold the Chase Freedom credit card, and take full advantage of its 5 points per dollar spent categories.
A quick primer: The Chase Freedom card is really a cash back card, earning 5% cash back on designated categories that change quarterly.
However, when paired with one of Chase's premier credit cards – Sapphire Preferred, Sapphire Reserve, and the Ink Business Preferred credit card – cash-back can be turned into Ultimate Rewards points and redeemed/deposited into a number of travel-related entities such as United Airlines, Southwest Airlines, Hyatt Hotels, Marriott Hotels and IHG Hotels to name a few.
Enough about that, you can read more in my review of the Chase Freedom credit card if you wish.
Chase Freedom's Cash Back/Ultimate Rewards Earning Power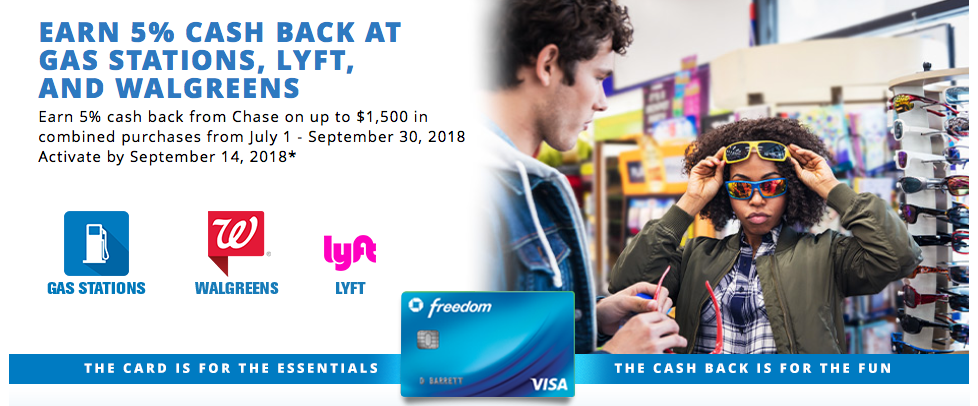 Purchases made with the Freedom card in the above categories starting July 1, 2018, and running through September 30, 2018, will earn 5% cash-back, or 5x Ultimate Rewards points, on every dollar spent up to $1,500 in spend.
Which means, if you max out the $1,500 in bonus category spend for the quarter, you'll earn $75 in cash back, or my favorite, 7,500 Ultimate Rewards points!
How to Play This Quarter's Bonus Categories
Lyft
This one's fairly simple, if you use Lyft for transportation, be sure your Chase Freedom card is linked to your account and is being used to pay for all your Lyft rides during the third quarter.
If you don't use Lyft, this bonus category isn't too useful.
Walgreens
Walgreens is oddly specific for a category, but the specificity is not unheard of in the history of Freedom bonus categories.
If Walgreens is your drug store of choice…or there's one nearby…here's what you can do.
Of course, purchase any of your drug store related needs at Walgreens during the third quarter, using your Freedom card to pay.
If you purchase prescriptions from Walgreens, and especially if you pay for your prescriptions out-of-pocket, out of a Flexible Spending Account or Health Savings Account, use the Freedom card to pay and reimburse yourself from the appropriate account.
Drug stores – Walgreens in this case – are always good places to buy gift cards.  Whether those gift cards are for actual gifts, or for retailers from whom you will be making purchases, buy the gift cards with the Freedom card and then use the gift cards to buy what you were going to purchase anyway.  Amazon, Target, Macy's, Netflix, and a large variety of restaurants, are just a few of the gift cards you can likely purchase at your local Walgreens, earning 5% cash back or 5x points during the quarter.
Gas Stations
If you drive a vehicle, use your Freedom card to fill up its gas tank during the third quarter and earn the extra cash back/points in the process.
Gas stations can also be good places to purchase gift cards.  Use the same technique I described for Walgreens and the cash back/points earned can really add up.
I shop at Giant Eagle (a midwest grocery store) who also has stand-alone affiliated gas station/convenient marts.  Many grocery stores throughout the U.S. have similar arrangements.  In the past, purchases at the affiliated gas stations have coded so that 5%/5x is earned on whatever is purchased when gas stations are one of the bonus categories…obviously.
The play, however, is you can buy the affiliated grocery store gift cards at the gas station/convenient mart fee free, effectively earning the bonus cash back/points on all your grocery shopping for the quarter, too!
As long as you're willing to put in a little effort with gift card buying, it shouldn't be too difficult to max out the Freedom's bonus category spend for this upcoming quarter.
So grab your Freedom card, place it prominently in your wallet, and let the increased points/cash back earning begin!
Don't have a Freedom card?  Use our referral link below to sign up for the Freedom card – we'll get a referral bonus and you'll get $150 cash back or 15,000 Ultimate Rewards points after spending $500 in the first three months.  That's in addition to the cash back/points you'll earn each quarter!
Get more details and apply for the Chase Freedom credit card
Do you have any suggestions for maxing out this quarter's bonus categories?  Leave them in the comments section below to help out fellow FST readers.