Airfares are a hard thing to predict.  Time of year, number of seats sold, or not, and, it seems, the whim of the airlines at the time you check availability, are some of the factors that can be the difference between getting a deal and not.
While it's assumed booking a package deal can lead to an overall lower price for your trip, that's not always the case.  You should check package pricing and compare it to the price when airfare, hotel and potentially car rental, are purchased separately.  Especially when you'll be using miles or points to cover the costs of some of your travel expenses.
I never expected, however, to see airfare discounts as deep as I did when the topic of purchasing business class airfares was covered by the Frequent Miler blog.
A 50% discount on business class airfares…with hotel included?!
That's indeed what was found. If that piques your curiosity, I encourage you to read his entire post, "Build Your Own Business Class Fare Sale with Vacation Packages," for the incredible details.
As you can tell from the post's title, getting those reductions involves booking via an airline's vacation package.
Most airlines have vacation package deals, however, it appears American Airlines and Delta Airlines are the ones whose vacation packages give the best savings on business class airfares.
Not everyone wants to spend a few thousand – or more – on a (reduced) business class ticket, though.
Which got me thinking, do the same discounts covered in that post apply to economy class fares, too?
It just so happened that my wife was beginning to price airfare to Europe for a June business trip. Her initial search was bringing up pricing in the $3,000 range for a one-stop, economy class, roundtrip ticket.
I thought I'd use her upcoming itinerary, and the vacation package suggestions, to compare economy fare options.
And sure enough, the savings, for an economy class, roundtrip ticket – on the same exact flights – were unbelievable.
As I said, pricing for a one-stop, roundtrip ticket on Delta was in the $3,000 range, while pricing for the same exact itinerary, on the same exact flights, including hotel, was approximately $1,450!
A savings of $1,500!
Wow.
Considering the results, I checked a few random itineraries to see if their pricing showed similar savings.
I continued with Delta's vacation packages for the searches.
PHOENIX TO ROME – AUGUST 20-26 – 1 STOP ITINERARY, 1 PERSON, HOTEL PACKAGE
Google Flights is showing $1,480 as the lowest 1-stop roundtrip ticket. You could get the price down to $1,300, but that would involve 2 stops and a longer transit time.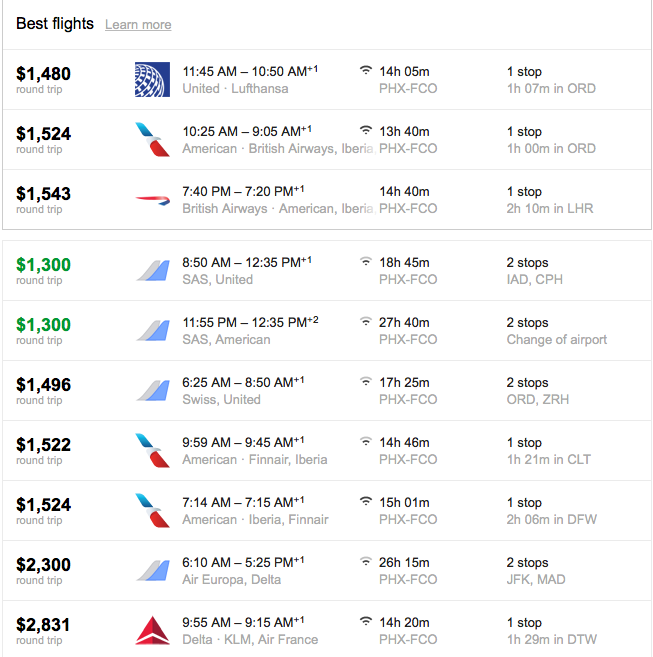 Delta Vacations prices a 1-stop itinerary plus hotel (lowest priced hotel option) for $1,113.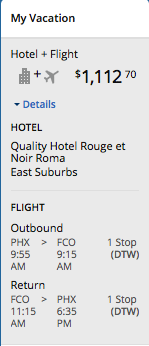 The package offers a savings of over $300 as well as a hotel room for the duration of the stay.
Of course, you could always select a better hotel option, which would increase the cost of the overall package.
Or, you could ignore the low-priced packaged hotel reservation altogether and use points to stay at your preferred hotel.
And if you were to compare apples to apples for this trip, the same exact Delta flights price out at $2,831.
In this case, the package saves $1,718.
COLUMBUS, OHIO TO PARIS – OCTOBER 8-14 – 1 STOP ITINERARY, 1 PERSON, CAR ONLY PACKAGE
Google Flights shows the least expensive option being a 2 stop, roundtrip itinerary pricing at $1,428. The lowest priced 1 stop itinerary is $1,785, but takes you cross-country, only to fly back again on your way to France.
Delta Vacations prices a 1-stop itinerary with car (lowest priced option) at $708.
Again, you could use the car, or not even bother with it, and save 50% off the flight.
And, the apples to apples comparison – Delta prices the flights-only itinerary at $2,740.
The package would save $2,000.
BOTTOM LINE
So, while it's definitely possible that airline vacation packages can save on economy class airfares to overseas destinations, the amount of savings will depend on your specific travel situation.
You just need to add a quick search of the American Airlines Vacations, Delta Vacations, and United Vacations package deals to your travel planning routine to ensure you're not missing out on some significant airfare savings.
Something I never even considered prior to reading the Frequent Miler post.
Have you used airline vacation packages solely to save on airfare?
Eiffel Tower image courtesy of Matt Banks at freedigitalphotos.net