United Airlines, American Airlines and Southwest Airlines have all come out with Back to School shopping promotions, offering bonus miles/points when specific spending levels are made through their respective online shopping portals.
Here's a look at each airline's promotion.
United Airlines
A few times a year, the United MileagePlus Shopping portal will offer bonus miles for certain spending thresholds.
This is a great way to increase your United miles balance by simply using the MileagePlus Shopping portal for purchases you were going to make anyway.
And if you participate each time these bonuses are offered, you could easily add anywhere from 1,000 up to 10,000 United miles just from the shopping portal.
BACK TO SCHOOL BONUS
The current bonus is offering:
500 bonus miles when you spend $150
1,500 bonus miles when you spend $350
3,000 bonus miles when you spend $600
The bonus offer is valid 7/21/17 through 8/18/17.
Purchases made during this period through the United MileagePlus Shopping portal will count toward bonus mile earning.
Qualifying purchases are measured cumulatively, meaning you can make multiple purchases throughout the bonus period, and the grand total of all your purchases will determine the bonus miles you'll earn.
Bonus miles will post to accounts 8-10 weeks after the bonus period ends.
Here's the fine print in case you're interested, especially as it pertains to "Qualifying purchases."

A PURCHASE EXAMPLE
Here's an example of earning potential with this deal, factoring in a strategically used credit card to maximize points earning.
The Purchase:  A $600 laptop
The Retailer:  Staples.com
The Credit Card:  Chase Ink Cash (earns 5x Ultimate Rewards points at office supply stores including Staples.)
THE PROCESS
Sign in to the United MileagePlus Shopping portal using your MileagePlus account log in info.
Search for Staples and click through to Staples.com
Make your $600 laptop purchase on Staples.com using your Chase Ink Cash credit card to pay.
Earn a ton of Miles and Points.
TOTAL MILES AND POINTS EARNING
For this one purchase, Miles and Points earning would be as follows:
United miles earned shopping at Staples.com –  ~600 miles (exact total depends on sales tax)
United Shopping portal bonus –  3,000 miles
Ultimate Rewards earning –  ~3,000 (5x total purchase price)
So for this one approximately $600 purchase, you'd earn 3,600 United miles via the MileagePlus Shopping portal and roughly 3,000 Ultimate Rewards points via the Chase Ink Cash card (that can be transferred to United at a 1:1 rate), making your total United miles haul 6,600 miles!
Of course, the amount earned via the credit card will vary depending on the card used and retailer at which you shop.
WRAP UP
The Purchase Example aside, the current United MileagePlus Shopping portal bonus is a great way to earn extra United miles simply by using the portal to do your online shopping over the next month.
American Airlines
The American Airlines AAdvantage Shopping portal is out with its Back to School bonus.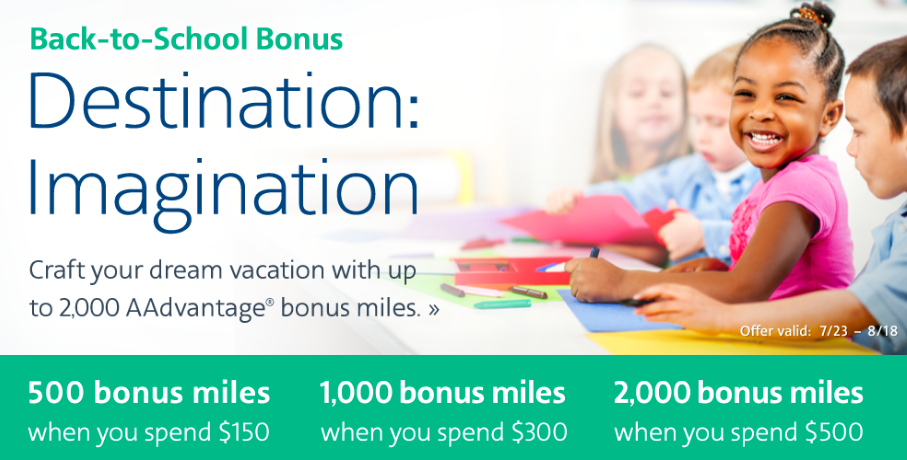 You can earn:
500 bonus AAdvantage miles when you spend $150
1,000 bonus AAdvantage miles when you spend $300
2,000 bonus AAdvantage miles when you spend $500
The shopping bonus runs 7/23/17 through 8/18/17.
Spend requirements are cumulative, meaning total spend is based on all purchases made during the bonus period. You don't have to spend $500 in one shot to earn the 2,000 bonus miles.
Here's the fine print in case you're interested.
There are plenty of retailers from which to pick, with varying miles/dollar earning rates that will add to your AAdvantage balance on top of whichever bonus level you hit. Below are just a few…
Personally, I don't find this deal as enticing as the United shopping bonus. Not because the bonus miles offered are less, but because – at least right now – American miles are much more difficult to use at an economical rate.
Trying to find low-level award availability – whether it's domestic or international – on American Airlines is akin to finding a needle in a haystack. And if you do find MileSAAver availability at the rate it should be – 12,500 one-way/25,000 roundtrip in economy – the flight times are usually not the most desirable.
But, if American is your airline of choice, and AAdvantage miles your preferred award currency, then this deal will help boost your balance for your next award redemption.
Southwest Airlines
Southwest Airlines has joined the Bonus Miles party.

Beginning 7/24/17 and running through 8/18/17, Southwest Airlines is offering these bonuses for shopping through the Southwest Rapid Rewards Shopping portal.
250 bonus points for spending $125
900 bonus points for spending $300
2,000 bonus points for spending $550
As with the other airline shopping portals, there are a wide variety of retailers from which to choose, each earning a varying amount of Rapid Rewards points per dollar spent. These earned points are in addition to any bonus points you might earn during this period. Here are just a few.
And also as with the other airline bonus miles/points promotions, the bonuses are based on cumulative qualifying purchases, meaning multiple purchases at multiple retailers are lumped together to get your total spend during the promotion period. It is this number that determines which bonus you'll receive.  No need to spend $550 at one retailer in one purchase to get the 2,000 Rapid Rewards points…unless that's what you want to do.
In case you're interested, here's the fine print associated with the Rapid Rewards Shopping promotion.
While the Rapid Rewards bonus points deal isn't bad, I, personally, would go after the United miles. Although, the same Chase Ultimate Rewards play I outlined in the United bonus miles blurb could apply here as well.
Use a Chase Ink credit card to purchase at a retailer earning 5x Ultimate Rewards points – or 3x with the latest version of the Ink card – per dollar spent (think office supply stores or major cell service providers) and those Ultimate Rewards points can be transferred at a 1:1 rate to Southwest Airlines, greatly increasing your overall earnings rate.
You'll earn the multiple points with your credit card, additional Southwest points based on the specific retailer's points/dollar payout and any bonus points you'll receive from this promotion.
If you're a fan of Southwest Airlines and its Rapid Rewards program, this just might be an offer you want to jump on to add to your stash of Rapid Rewards points.