If you're a member of Hyatt's loyalty program, World of Hyatt, you can earn extra Hyatt points and save money on your next Avis rental with this deal.
Not a World of Hyatt member?  Membership is free and signing up is quick and easy at the link below.
World of Hyatt/Avis Deals
World of Hyatt members can get rewarded with these deals when renting a car with Avis.
Members of Hyatt's loyalty program can earn 500 World of Hyatt Bonus Points and up to 25% off base Avis rental car rates for each qualifying rental as a regular practice.
For a limited time, however, Hyatt and Avis are sweetening the deal with the promotions below.  These member-exclusive deals are combinable for a nice double-dip.
Act fast, these offers are valid through September 30, 2018, only.
Get $25 off qualified car rentals of $175 or more

Apply coupon number MUHA008 between June 20, 2018, and September 30, 2018, on qualified Avis rentals in the U.S. and Canada whose base rate and mileage is $175 or more and save $25.
Earn More Hyatt Bonus Points
Earn 1,000 Hyatt points (500 more than usual) on car rentals of 3 days or more with offer code K817734.
Every Day Savings
As a World of Hyatt member, you can save up to 25% every day on Avis base rates when using the AWD # K817734.
You can search Avis rental car availability and book the deals listed above at the following link.
Avis Rental Car Search and Hyatt Promotion
If you'll be needing a rental car this summer and you want to save a little money and boost your Hyatt points balance, this deal might be for you.
The Fine Print
Below is the fine print associated with each offer if you're so inclined.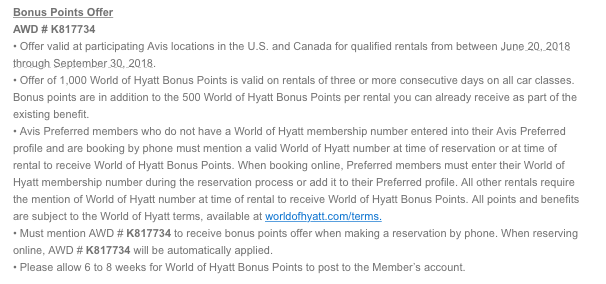 Wrap Up
World of Hyatt members can add to their Hyatt points balances and save some money on an Avis car rental when using the promotion codes listed above.
And it's a plus that the $25 off and Bonus Points promotions can be stacked to maximize your efforts.