You've read my posts "How to Travel More for Less" and "Miles and Points – A Real-World Example" and you've decided to give this travel-for-little-to-no-money thing a try, but you're at a loss as to where to start. No worries, in this post I'll give suggestions on how to get started playing the Miles and Points game.
Define Your Travel Goals
We all have desires of seeing various destinations across America and throughout the world, but when it comes to using miles and points, it's best to focus on one travel goal at a time.
So put on your thinking cap and decide which trip you want to begin building miles and points toward. It may be simply building hotel points so when you visit grandma and grandpa for Thanksgiving next year, you can stay in a nearby hotel for free. Or, it may be building enough airline miles to fly business class to Rome next summer. Or it could be getting a free flight to, and hotel stay on, a south Florida beach next March.
Pick the travel goal that sounds the best right now and let's go get the Miles and Points necessary to make it happen.
Sign Up For Hotel Reward Programs and Frequent Flyer Accounts
To begin building your stash of Miles and Points, you need accounts into which the Miles and Points will go.
Here's where deciding on a travel goal will help when picking and opening Miles and Points accounts.
Every hotel and airline has a reward program. And if you really get into playing the Miles and Points game, you'll ultimately have an account in just about every loyalty program.
But to start, let's just pick a few that correspond with your travel goal.
Hotels
For hotels, consider which hotel chain is best represented at the destination you've chosen. Or, if you have a hotel chain you like, go with that. Marriott, Hyatt, Hilton, and IHG (Holiday Inn, etc.) are the biggies but are by no means the only ones from which to pick.
Use the links I've provided, or if using a different hotel chain, go to the chain's website and look for its loyalty program's link.
Fill in the required information, submit it, and you'll be assigned a rewards number. Be sure to write down your login information as well as your rewards number for future use.
Airlines
Airline frequent flyer programs are next. Which program, that corresponds to your initial travel goal, to choose will depend on your answers to a few question.
Is your travel goal within the continental U.S.? If so, I would recommend Southwest Airline's Rapid Rewards program.
Do you want to fly outside of the continental U.S. to destinations that might include Hawaii, Europe, South America or Asia? Then take a look at which airline has a hub, or if there is no hub, then the most flights into/out of your nearest airport. Oftentimes, this info can be found on the airport's website. The more flights an airline has into/out of an airport the easier it will be finding airline award availability.
Once you've found which airline serves your preferred airport the most, go to that airline's website, find the link for its frequent flyer program and sign up.
If you can't find the airline traffic/usage information easily, then default to United Airlines MileagePlus frequent flyer program, the reason for which I'll get to in a bit.
Getting the airline frequent flyer account set up is similar to the hotel rewards account. Be sure to write down your login information and your frequent flyer number for future reference.
Now that you've selected your hotel and airline, it's time to start building your Miles and Points balances.
Credit Cards
Just about every hotel and airline has a co-branded credit card associated with it. When you earn points, either through sign-up bonuses or everyday spending, those points are automatically added to your airline/hotel loyalty program balances.
There are also cards that earn points that can be used in a variety of ways, including transferring to a number of airline and hotel partners. These cards are extremely valuable for building points and putting those points into programs whose balances need to be built up for a specific award redemption.
The Chase Ultimate Rewards program is an example of this, and the Chase Sapphire Preferred card is widely considered one of the best Miles and Points starter cards.
The current offer for the Sapphire Preferred card is 50,000 Ultimate Rewards points after spending $4,000 in 3 months from account opening – the Annual Fee is $0 for the first year, then $95 per year. There are a number of transfer partners for Ultimate Rewards, but to highlight ones I've already mentioned, these 50,000 points could be transferred to Southwest Airlines, United Airlines, Marriott hotels, IHG hotels or Hyatt hotels at a 1:1 transfer rate.
Which means, even if you did nothing more than get the sign-up bonus for the Sapphire Preferred card and transferred it to the Hyatt Gold Passport program, you'd have enough points for 5 – 8 free nights at Hyatt's Hyatt Place hotel, depending on travel dates and location.
Or, as you may remember from my previous post "Miles and Points – A Real-World Example," my wife and I used 33,360 Southwest Rapid Rewards points for two round-trip tickets to Florida. The Sapphire Preferred sign-up bonus would be more than enough to cover a similar Southwest airlines trip depending on travel dates and destination.
And one final example, 50,000 Ultimate Rewards points transferred to United's MileagePlus program would get you two domestic, economy class, saver award, round-trip tickets (25,000 miles each).
So as you can see, being able to transfer Ultimate Rewards points to the program of your choice can be very beneficial when trying to achieve your travel goal.
We still have to discuss hotel and airline-specific credit cards, though.
Depending on the airline and/or hotel you selected, go to the airline/hotel's website and look for their co-branded credit card offer. Click on the link and you're off to the credit card info/application site. Or, just Google the airline or hotel name followed by "credit card"…that should get you what you need.
Here are a few examples of current airline and hotel credit card offers.
Hyatt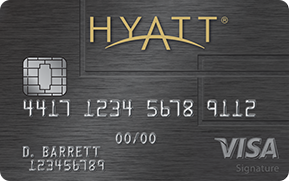 Sign-up Bonus: 2 free nights at any Hyatt after spending $1,000 within 3 months.
Fees: $0 annual fee for the first year, $75 each year after that.
Annual Bonus: 1 free night in any category 1 to 4 Hyatt each anniversary, which in most cases will more than make up for the annual fee.
Additional Perks: Free Hyatt Gold Passport Platinum status, the primary benefit being free in-room Internet and late checkout.
Earning: Earn 3 Hyatt points per $1 spent at Hyatt, 2 Hyatt points per $1 spent at restaurants, car rental agencies and airline tickets purchased directly from the airlines and 1 Hyatt point per $1 spent on everything else.
My Thoughts: My wife and I are big fans of Hyatt hotels. We've never been disappointed in any property, whether it was the lower end Hyatt Places or the higher end Hyatt Regencies, our stays have always been great. If you go for this card, be sure to take full advantage of the 2 free nights by using them at the highest-level property that fits your travel plans. While Hyatt Places are good, I would not use my 2 free nights at one if I could avoid it.
Marriott
Marriott Rewards Premier Credit Card
Sign-up Bonus: 80,000 bonus points after spending $3,000 within 3 months.
Fees: $85 annual fee is NOT waived with the 80,000 point offer.
Annual Bonus:  1 free night in a category 1 to 5 Marriott. Again, this perk can more than make up for the annual fee in subsequent years.
Earning: Earn 5 points for every $1 spent at Marriott locations, 2 Marriott points for every $1 spend on airline tickets purchased directly with the airline, car rental agencies and restaurants and 1 Marriott point per $1 spent on everything else.
My Thoughts: Marriott is another good chain that has a much wider selection of properties from which to choose as compared to Hyatt. 80,000 points is a good sign-up bonus.  However, the card's typical bonus runs around 50,000 points, which may sound like a lot, but if you stay at a high-end Marriott property, one night can easily run you 30,000 points, if not more.
Southwest Airlines
Southwest Airlines Rapid Rewards Plus Credit Card
Sign-up Bonus: 50,000 bonus points after spending $2,000 within 3 months.
Fees: $69 annual fee NOT waived for the first year.
Anniversary Bonus: 3,000 points on card anniversary.
My Thoughts: I like Southwest for its easy award redemptions, as well as the fact that there are no change fees if you have to cancel your travel plans AND no baggage fees. If you're flying within the continental U.S., it's my personal favorite. Chase alternates bonuses on the Southwest cards every 3 months or so between the 50,000 point sign-up bonus and a 25,000 point bonus.  Obviously, wait for the 50,000 point deal to apply.  Also, Southwest has a Rapid Rewards Premier card the primary difference being 6,000 points on the card anniversary for a $99 annual fee.
United
United Mileage Plus Explorer Card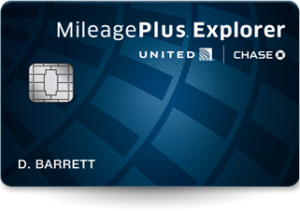 Sign-up Bonus: 30,000 United miles after spending $1,000 within 3 months.
Fees: $0 annual fee for the first year, $95 fee each year after.
Anniversary Bonus: 2 free United club passes each year.
Additional Perks: 1 free checked bag and priority boarding when reservation is made/paid for with credit card.
My Thoughts: I provide the United Explorer card as an example only because it's a transfer partner with Chase Ultimate Rewards. Using Ultimate Rewards in conjunction with United's sign-up bonus can get you to your travel goal more quickly. As with Southwest, United occasionally runs a 50,000 mile sign-up bonus, so you may want to wait. However, it's not as regularly timed as Southwest's seems to be.
Spending
To take full advantage of playing the Miles and Points game, you need to put all your spending on your cards and then pay them off each month. Targeted spending, either to meet minimum spends to get sign-up bonuses, or to build balances in a specific program, is the key to meeting your travel goal(s). And of course, never spend more than you ordinarily would. Earning Miles and Points to save on travel is not worth going into debt or ruining your credit.
Additional Miles and Points Earning Opportunities
I won't go into detail on this category…at least right now…but there are ways to earn Miles and Points over and above sign-up bonuses and everyday credit card spending. And believe me, with just a little effort on your part, they do add up.
Dining Programs Rewards Network is a company that will automatically give you miles and points every time you spend money at a participating restaurant. All you have to do is sign up for the specific airline or hotel dining program, register all your credit cards to the program, and every time you dine, and pay with a registered credit card, you get points.
Shop Online Most airlines, hotels and credit card programs (Chase Ultimate Rewards) have online malls. When you click through their mall to shop, you automatically get points for every dollar you spend. Sometimes significant amounts of points per dollar. It really adds up. So instead of going to L.L. Bean's website to buy a shirt, I go to the Chase Ultimate Rewards Mall, search for L.L. Bean, click on it – which takes me to the actual L.L. Bean website, where I get extra Ultimate Rewards points for making a purchase.
Okay, that's more than enough information to get you started in the Miles and Points game, and on your way to completing your first Miles and Points travel goal.
I know it can be confusing, so if you're interested in learning more, or have specific questions, just ask away.
Until next time, happy saving and happy travels.
image courtesy of Salvatore Vuono/freedigitalphotos.net