Hyatt is my favorite hotel chain, and I was glad to see it's offering a 10% rebate on redeemed points again this summer.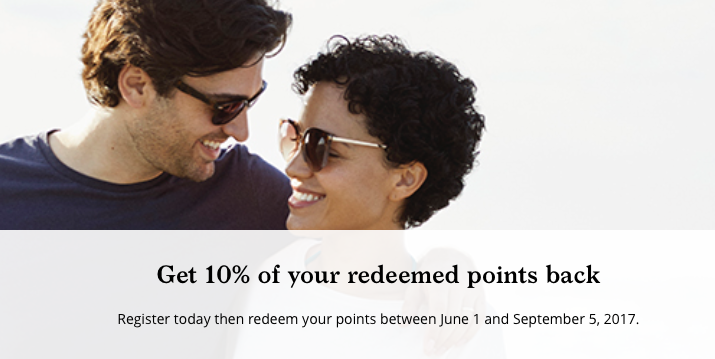 To be eligible for the 10% points rebate, you must be a current holder of the Hyatt credit card with an open World of Hyatt account, and register for the promotion (you should have received, or will be receiving a registration email) between 5/23/2017 and 6/30/2017.
All award stays – stays using points, points + cash or for room upgrades – completed between 6/1/17 and  9/5/17 will receive 10% of the points used re-deposited to your World of Hyatt account.

Hyatt is stating the 10% bonus points will be loaded to your account 6-8 weeks after points redemption.
A few years ago, Hyatt offered a 20% rebate promotion that my wife and I took advantage of to the tune of 21,000 Gold Passport points (old name) back after a week stay at the Hyatt Regency Huntington Beach Resort and Spa and a miscellaneous Hyatt Place stay during the promotion period.
Rebated points for us were in our account within a week or two of the award stays, so much sooner than the 6-8 weeks that Hyatt was/is stating.
Although, I would be wary about making any definitive plans for those 10% points any earlier than the 6-8 weeks that are part of the terms and conditions.
While not as good as the 20% back offer of a few years ago, 10% is better than nothing. Especially when talking about Hyatt points.
If Hyatt award stays are part of your travel plans in the next few months, definitely take a few minutes to register for this promotion.
images courtesy of Hyatt.com