I personally find Hyatt Hotels one of the top hotel brands in today's market. And Hyatt's World of Hyatt loyalty program one of the best programs for redeeming points for free hotel nights at a reasonable rate.
The primary reason Hyatt stands out from among a wide range of hotel chain offerings is that its footprint, or number of hotels, is not as great as many of its competitors.
Its smaller size allows it to focus on the details somewhat better than the larger chains do, as well as provide a better return on its customers' loyalty.
To be loyal to Hyatt takes a little more effort than it does to a chain such as Marriott or Hilton. And Hyatt does a good job rewarding that loyalty.
My wife and I have stayed at a number of Hyatt properties, ranging from its family/business friendly Hyatt Places, to its mid-level Hyatt Regencies, to its Grand Hyatt hotels and resorts. The service at all properties is typically top notch and the hotels themselves well-appointed, clean and welcoming. With some, such as the Grand Hyatt Kauai Resort & Spa to name just one, the experience is simply amazing.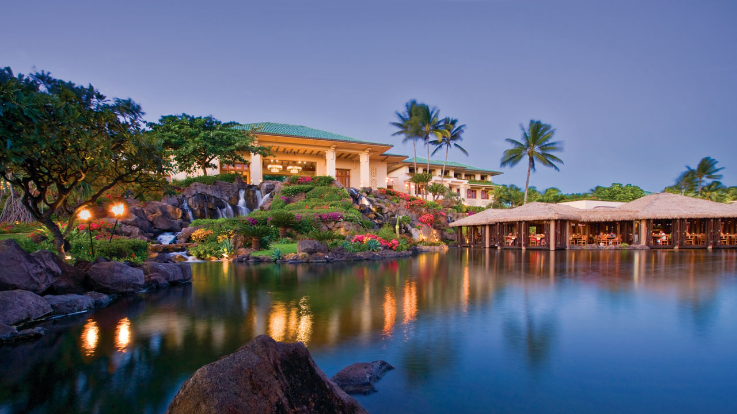 Which is why I value Hyatt World of Hyatt points so highly, and, in turn, The Hyatt credit card as a way to earn those points.
DETAILS AND BENEFITS
Here's a complete look at the details and benefits of The Hyatt credit card:
Earn a total of 50,000 World of Hyatt points: 25,000 after making $3,000 in purchases in the first 3 months from account opening and an additional 25,000 after spending $6,000 total in the first 6 months from account opening
1 free night at any category 1 – 4 Hyatt every year after your cardmember anniversary
Receive an extra free night (category 1-4) if you spend $15,000 on the card during your cardmember anniversary year
$95 annual fee
Earn 4 Hyatt points for every $1 spent on purchases at all Hyatt properties
Earn 2 Hyatt points for every $1 spent at restaurants, on airline tickets purchased directly from the airline, on local transit and commuting as well as fitness clubs and gym memberships
Earn 1 Hyatt point for all other purchases
The World of Hyatt card provides World of Hyatt Discoverist status, which includes 10% point bonus on eligible spend (Hyatt Hotels), complimentary premium in-room Internet access, 1 complimentary bottle of water daily, and 2:00 p.m. late checkout (subject to availability) to name a few of the benefits
Apply for the Hyatt Credit Card  We receive a referral bonus for accounts approved via this link. You don't have to use our link to apply, but we appreciate when you do.
MY TAKE
If you're a traveler who books the majority of your hotel stays at Hyatt, getting The Hyatt card and using it to pay for your hotel stays is the way to go.
If you're new to Hyatt, or don't go out of your way to stay at Hyatt Hotels, then I would still recommend getting the Hyatt card, but probably not encourage it for everyday/travel spend.
One addendum to that would be for a select group of people, the World of Hyatt card is useful for earning Hyatt status based on credit card spend alone.  This opportunity was not available on the old version of The Hyatt Credit Card.  Understand, this opportunity is for big spenders only.
The World of Hyatt card provides 5 qualifying nights per year just for holding the card.  You can then earn 2 additional qualifying nights toward your next tier status when you spend $5,000 on the card. Tier levels are met at the following qualifying nights levels:
Discoverist – 10 nights (or hold credit card)
Explorist – 30 nights
Globalist – 60 nights
Again, this option is for a very select few.  I mention it solely to illustrate a possible benefit of holding The World of Hyatt Credit Card.
For most, the annual free night on your cardmember anniversary is much more beneficial. With Hyatt, it's possible to get more than the $95 annual fee in value when using that free night.
Most of the lower category Hyatts, Hyatt Places and Hyatt Houses, depending on location, can easily price out at $85 – $120 per night. When used strategically, you're saving money by paying the annual fee and using the associated free night for your stay.
But, the nice thing about Hyatt is there are a number of really nice properties than fall into the 1 – 4 categories, and at which the annual free night can be used.
Here's a glance at Hyatt category 4 properties. The list may be dated but is a good illustration nonetheless.  Note that this list does not include all of the hotels in Asia/Pacific, Europe, Africa and the Middle East where the free annual night can be used, as well, should your travels happen to take you overseas.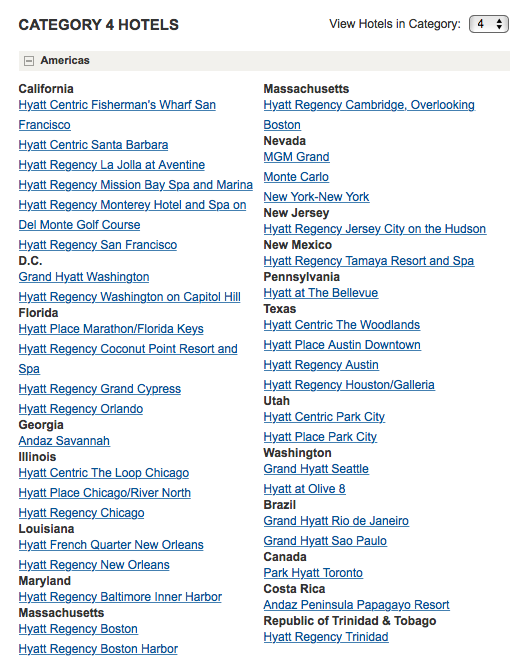 To get a feel for all of Hyatt's hotels, you can view them, by category, here.
Using the 50,000 Points
The highest-level Hyatt properties price at 30,000 World of Hyatt points per night, so the full signup bonus plus the $6,000 minimum spend amount will just about get you two nights at Hyatt's top-tier properties.
But, if you want to use the 50,000 points for a ten-night stay at a Hyatt Place property charging 5,000 Hyatt points per night, then that's an option, too.
Using World of Hyatt Points
As I mentioned, Hyatt points are a great value when compared to many other hotel loyalty programs.
Hotel night redemptions start at 5,000 points per night and top out at 30,000 points per night for the category 7 properties.
As a comparison, Marriott award night redemptions start at 7,500 for category 1 properties and max out at 60,000 for category 7 (85,000 for category 8 coming in 2019) hotels.
Hilton used to have an award chart with nights ranging from 5,000 for lower-level properties up to 70,000 for its top end hotels. That has gone by the wayside, with a more dynamic award pricing structure taking its place.  Award nights are now based on room price in dollars and specific property occupancy levels in addition to other obscure criteria as the determining factors for award pricing.
While the award pricing differences – when they can be compared – may not seem huge, believe me, a lower category Hyatt stands tall above the lower-level Marriotts, Hiltons, etc. Give me a Hyatt Place over a Fairfield Inn any day.
OTHER WAYS TO BUILD HYATT POINTS
While this piece is about The World of Hyatt credit card, I do want to note there are other ways to build your Hyatt points balance in addition to putting spend on The Hyatt card.
Obviously, paid stays at Hyatt properties will add 5 points per dollar spent for anyone who is a World of Hyatt member (Hyatt credit card holder or not), in addition to whatever spend you put on The Hyatt card. And if you hold Discoverist status (which you get with The Hyatt card) you earn an extra 10%, Explorist status earns an extra 20%, while Globalist members get a 30% bonus on the points earned via paid stays.
But, another option isn't quite as obvious. Hyatt points can be earned through the Chase Ultimate Rewards program by virtue of their partnership.
Which means, Ultimate Rewards points earned by using the Chase Sapphire Preferred credit card, Chase Sapphire Reserve, Chase Freedom and Chase Freedom Unlimited cards (when used in conjunction with the Sapphire Preferred or Reserve cards) and the Chase Ink Plus Business Card can be transferred to your World of Hyatt account at a 1:1 transfer rate, making it easy to build your Gold Passport balance.
WRAP UP
You just can't beat the Hyatt brand. Excellent service and outstanding properties make Hyatt my go-to hotel whenever possible.
If you're familiar with Hyatt, then I'm sure the 50,000 points you'll receive as a sign-up bonus for the card is more than enough to entice you to apply. And the free category 1 – 4 night on your cardmember anniversary will surely keep the card in your rotation for years to come.
If you're not familiar with Hyatt, do yourself a favor and submit your Hyatt card application. Use the sign-up bonus points on an aspirational experience you otherwise would not have.
After which, you'll be hooked, and a new Hyatt devotee will be born.