If you're a business traveler who stays primarily at Marriott Hotels, or a leisure traveler who tends toward the Marriott brand, the Marriott Rewards Premier credit card just may be for you.
Even if you don't fit into either of those categories, now might be the time to apply for the Marriott Rewards Premier card.
Currently, the Marriott Rewards Premier card is offering an outstanding sign-up bonus of 80,000 Marriott Rewards points after spending $3,000 on purchases in the 3 months from account opening.
The typical sign-up bonus is 50,000 points, with an occasional bump to 70,000. The 80,000 point bonus doesn't come around too often, which is why even those who don't stay at Marriott on a regular basis may want to get in on the deal.
DETAILS AND BENEFITS
Here's a complete look at the details and benefits of the Marriott Rewards Premier card:
80,000 points after spending $3,000 in the 3 months from account opening
7,500 points when an authorized user is added to the account and a purchase is made in the first 3 months from account opening
1 free night stay at a Category 1-5 hotel every year after your account anniversary
15 credits toward your next Elite membership level after account approval and every year after account anniversary
Earn 1 Elite credit for every $3,000 spent on purchases
Earn 5 Marriott Rewards points for every $1 spent at Marriott and Ritz-Carlton Hotels
Earn 2 Marriott Rewards points for every $1 spent on airline tickets purchased directly with the airline, and at car rental agencies and restaurants
Earn 1 Marriott Rewards point for every $1 spent on all other purchases
Points don't expire as long as a purchase is made – or there's activity on your Marriott Rewards account – every 24 months.
The $85 annual fee is not waived the first year
There is also a Marriott Rewards Premier Business credit card with the 80,000 point sign-up bonus as well.
The primary differences from the personal card are:
$99 annual fee not waived the first year
Earn 2 Marriott Rewards points at office supply stores and for Internet, cable and phone service purchases in addition to what is 2x bonused on the personal card
No authorized user bonus
MY TAKE
If you're a business traveler who primarily stays at Marriott Hotels, you can see how the points can really rack up with the 5x earning on Marriott spend. And the Elite credits can help boost your status leading to better perks and, potentially, better service while staying at Marriott Hotels.
As a leisure traveler, unless you're staying in Marriott Hotels a significant amount each year (more than the typical two vacation weeks) I'm not sure the Marriott card should be your primary, go-to credit card. There are other cards than can give you more bang for the buck…like the Chase Sapphire Preferred card for example. That doesn't mean you shouldn't get the Marriott card for the bonus, just that you might not want to use it very often once the sign-up bonus is earned.
At first glance, the free night stay on your account anniversary seems alluring. However, the restriction to a Category 1-5 hotel does limit its attractiveness. Most Category 1-5 Marriotts are lower-level hotels that may, or may not, make paying the $85 annual fee a wash when considering how much a night at one of those hotels would cost. You really have to search to find a nice Category 5 Marriott that would make paying the annual fee worthwhile.
And, along those lines, there are other hotel reward programs whose points can go a lot farther when factoring in free nights at nicer hotels. The Starwood SPG and Hyatt programs come to mind.
I would not, however, completely discount the Marriott Rewards program. It's a solid mid-tier program – by which I mean middle of the road when it comes to redeeming points for award nights at nice hotels at a reasonable points-rate.
USING THE POINTS
All that said, let's take a look at what 90,500 Marriott points (80,000 sign-up bonus, 7,500 authorized user bonus and $3,000 minimum spend to get the bonus) could get you.
12 free nights at a low-level Category 1 Marriott
3 free nights at a mid-level Category 6 Marriott or 3 free nights at a Tier 1 Ritz-Carlton
2 free nights at a top-level Category 9 Marriott or 1 free night at a Tier 5 Ritz-Carlton
You can view hotels by Reward Category by going to the Marriott Rewards site and clicking the link, "Turn your points into free hotel stays."
A nice thing about Marriott Rewards points is they can be used for free stays at any Ritz-Carlton as well as any Marriott Hotel. The reason – Marriott Hotels owns Ritz-Carlton.
And, there are PointSavers options for both Marriott and Ritz-Carlton that can make free nights a little more affordable. Usually the PointSavers are during non-peak times for an individual property. You can learn more about PointSavers here.
Below is the Reward Chart for Marriott Hotels.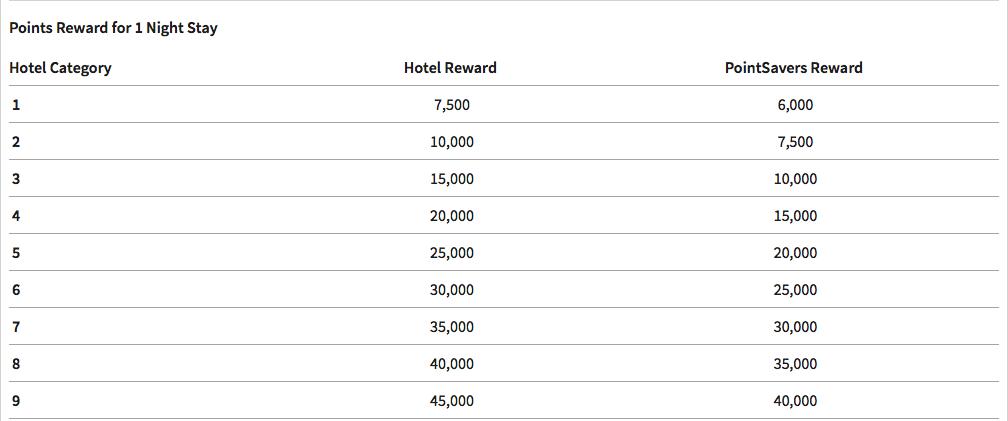 And the Reward Chart for Ritz-Carlton Hotels.
WRAP UP
Previously, I reviewed the Starwood American Express credit card, and noted how Marriott was in talks to purchase Starwood Hotels. Since then, a Chinese insurance company, Anbang, has gotten into a bidding war with Marriott for the purchase of Starwood.
I mention this only to note that if Marriott succeeds in buying the Starwood brand, holders of the Marriott Rewards Premier credit card would likely have access to many more hotels around the world thanks to the Starwood portfolio. However, there are a lot of what-ifs that need to be cleared up before that would become an option. And even if Marriott does purchase Starwood, the two rewards programs likely won't merge completely for a year or two.
Right now, go for the Marriott Rewards Premier credit card and its 80,000 point bonus if you feel either would benefit your near-term travel objectives.
As many in the Miles and Points game say: Earn 'em and burn 'em, you never know what tomorrow will bring.