Commonly referred to as the SPG Amex, this Starwood Hotel aligned card is able to do a lot more than just earn points for hotel room award redemptions.
Before getting into the specifics of the card, it's important to highlight that the SPG Amex is currently (March 2016) offering the highest sign-up bonus it has ever offered.
For a limited time, the SPG Amex is offering 35,000 Starpoints after making $3,000 in purchases within the first 3 months.
And if you have a business, the Starwood Preferred Guest Business Credit Card is also offering a 35,000 Starpoint sign-up bonus; however, its minimum spend is a little higher at $5,000 within the first 3 months of card approval.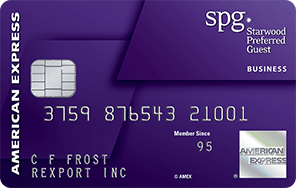 Both of these 35,000 Starpoint bonuses are scheduled to end on March 30, 2016.
So, aside from an all-time-high sign-up bonus, what are the benefits associated with the SPG Amex? Let's take a look.
Earn 2 points per dollar spent at Starwood Hotels (which includes, Aloft, Design Hotels, Element, Four Points, Le Meridien, Sheraton, St. Regis, The Luxury Collection, Tribute Portfolio, Westin and W brand hotels)
Earn 1 point per dollar spent on all other purchases
2 stay credits or 5 night credits toward Starwood Elite Status
Receive unlimited use of Boingo Wi-Fi hotspots (excluding in-flight)
No foreign transaction fees
$95 annual fee is waived the first year
For business credit cards, access to Sheraton Club lounges for the cardholder and one guest staying in the same room.
As you can see, this card isn't a big points earner after receiving the sign-up bonus. At basically 1 point per dollar spent (outside of Starwood Hotel stays), it would take a lot of spending to accumulate a significant amount of points.
However, this card's biggest asset is its ability to acquire Starpoints which can not only be used for award stays at Starwood Hotels, but can also transfer to a large number of airlines, providing another avenue to increase the balances in your airline frequent flyer account(s).
And the even bigger perk of transferring Starpoints to airlines is that for every 20,000 points transferred, an automatic 5,000 point bonus is included.
So, for example, transfer 20,000 Starpoints to American Airlines and you'll get 25,000 American Airlines AAdvantage miles in your account. That's a pretty good deal.
Here's a list of airlines to which Starpoints can transfer along with the transfer ratio (Starpoints : Airline Miles).
As you can see, most airlines – aside from United, Air New Zealand and Gol – offer a good transfer deal at 1:1 Starpoints to airline miles.
And if you want to redeem Starpoints for Starwood Hotel stays, here's a general points/night graphic. On weekends, Category 1 and 2 hotel redemptions decrease by 1,000 points per night.
The best way to know exactly how far your Starpoints will get you for free hotel rooms is to do a search for specific dates and locations. That can be done here.
Some value Starpoints so highly that the SPG Amex is their go-to credit card for all spending that is non-bonused.
Non-bonused spending refers to credit card spending that does not earn multiple points per dollar spent.
Earnings like 5x Ultimate Rewards points on rotating categories with the Chase Freedom card, or the 2x Ultimate Rewards points earned on dining and travel with the Chase Sapphire Preferred card or the 3x Membership Rewards points on airfare with the American Express Premier Rewards Gold card are examples of bonused spending.
Personally, I like the SPG Amex for its sign-up bonus, and maybe some limited spending to take advantage of Amex Offers.
You need to decide, based on your spending patterns, whether it's a card worthy of your everyday spending.
One, large, caveat with both the SPG Amex and the SPG Business Amex is that Marriott Hotels recently bought Starwood Hotels. While all aspects of the merger haven't been finalized, it likely will happen, which means at some point the Marriott Rewards program and the Starwood program will merge. How that will impact points, their value and the ability to transfer, remains to be seen.
And, whether the SPG Amex cards will continue to be offered also remains to be seen. Chase has a deal with Marriott to provide the co-branded Marriott Rewards credit card, so it's likely with Marriott being the purchaser, the Marriott cards, and thus Chase, will win out.
Which might be the reason we're now seeing the highest SPG Amex sign-up bonus ever, being offered now. Bring in new cardholders before the card closes to new applicants.
Exactly what will happen with the credit cards and the merger of the Marriott and Starwood programs going forward is up in the air. However, if you have never had the SPG Amex or SPG Business Amex card before (American Express cards' sign-up bonuses are now limited to one bonus per card per applicant's lifetime) you may want to jump on this 35,000 Starpoint deal if for no other reason than to add to your airline frequent flyer mileage balances.